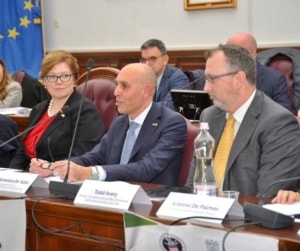 On 8th October 2015, Avv. Giandomenico De Tullio was appointed as regional representative for Puglia for the American Chamber of Commerce Italy.
The American Chamber of Commerce in Italy (AmCham) is a private, not-for-profit organisation whose aim is to develop and promote economic and cultural relations between the United States and Italy. AmCham supports and protects the interests of its associates' commercial activities between the two countries.
"Puglia has one of the most intense economies of Italy and dynamic industrial production, as it includes strategic companies which now form an integral part of the national system, and, in many cases, groups of international importance. As proof of the region's competitive strength, it is enough to observe the region's exports: in 2014 Puglia led to export in the south of Italy with a +9.4% growth and it was the first region in Italy in terms of growth percentage.
Puglia is home to factories and companies belonging not only to industries traditionally associated with the region, such as agriculture but also to steel, automotive, aerospace, furniture and clothing. As to the agricultural sector, Puglia is the region with the highest Italian olive oil production levels, at 36,6%, and it supplies hundreds of oil mills all over Italy. The agricultural development model of the region aims to combine competitiveness with economic and environmental sustainability.
Puglia features as the second Italian region for energy production from fossil and renewable sources while being the main Southern Italian region for photovoltaic installations and wind power generation.
The cornerstone of the whole industrial system in Puglia is represented by over 80 sites of about 100 medium and large foreign and national groups employing over 40.000 direct employees. Alongside these large foreign and national groups, there are SMEs and artisanal enterprises permeating the whole regional economic system, producing and supplying goods to a wide variety of sectors." (Source: Amcham.it)
https://detulliolawfirm.com/wp-content/uploads/2021/05/De-Tullio-Header-Logo.png
0
0
Giandomenico De Tullio
https://detulliolawfirm.com/wp-content/uploads/2021/05/De-Tullio-Header-Logo.png
Giandomenico De Tullio
2017-03-23 10:24:52
2021-09-24 12:42:48
American Chamber of Commerce in Italy Regional Representative for Puglia