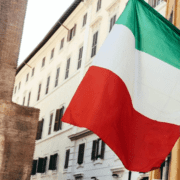 In Italy, a beneficiary can choose between accepting or renouncing Italian Inheritance. The beneficiary qualifies as heir as soon as they accept the inheritance. Once accepted, the qualification of the heir is irrevocable.
How does acceptance work?
The beneficiary can accept to be an heir expressly or tacitly. In either case, the beneficiary must accept within 10 years from the opening of the succession process. 
When the beneficiary declares to accept the status of heir they need a notarial or a private deed. 
When someone acts in such a way that the acceptance can be implied or inferred it is referred to as Tacit acceptance
The acceptance can also be reserved. This way, the successor reserves the right to accept or renounce an Italian inheritance until such times as they are able to ascertain whether debts or liabilities on the assets exceed the value of the property the beneficiary is inheriting. In this way, the heir is able to discharge themselves from paying any outstanding debts by renouncing an inheritance in favour of creditors and legatees.
Usually, an heir renounces an inheritance if the decedent's debts exceed the value of the assets. The heir must pay the decedent's debts up to the value of the property they inherit.
Renouncing an inheritance
For the beneficiary to renounce an Italian inheritance they must make a  statement in front of a Notary Public or at the chancery of the court where they opend the succession procedure ("volontaria giurisdizione" section). The Notary Public or the court clerk then record a renouncement.  The beneficiary must renounce within 10 years of the opening of an Italian succession procedure.
Finally …
At De Tullio Law Firm, we have published a Guide to Italian Inheritance, which we hope you will find useful. 
If you are a beneficiary to an Italian inheritance, it is always advisable to consult a competent independent professional. They will be in a position to provide information about debts and charges on inherited assets and the heirs duties. An experienced legal professional will provide advice based on a comprehensive inventory of the assets in question. This way you can make an informed decision on how to proceed. 
Each case is different so, if you would like to contact us for a free consultation about your Italian inheritance matter, please get in touch.
https://detulliolawfirm.com/wp-content/uploads/2021/05/De-Tullio-Header-Logo.png
0
0
Giandomenico De Tullio
https://detulliolawfirm.com/wp-content/uploads/2021/05/De-Tullio-Header-Logo.png
Giandomenico De Tullio
2016-07-20 12:07:58
2021-11-02 12:39:40
Accepting Or Renouncing Italian Inheritance