Real Estate in Italy: 2023 Opportunities
How much does it cost to buy real estate in Italy?
The average price of buying real estate in Italy ranges from EUR 1,929 to EUR 2,520 per square meter.
Italian real estate prices are higher in the larger cities, especially Milan and Rome. In Milan, the average price of residential property in October 2022 was EUR 3,994 per square meter.
Homes in southern Italian cities are much more affordable, with prices per square meter ranging from EUR 1,300 to EUR 1,700.
An overview of the development of the Italian real estate market
The ISTAT House Price Index (HPI) measures the evolution of market prices of all residential properties purchased by households (apartments, single-family houses, terraced houses, etc.), both new and existing properties, whether purchased for owner-occupation or as an investment.
According to ISTAT HPI data for 2022, Italian housing prices experienced a significant recovery in the first quarter of 2022. This recovery started before the COVID pandemic in 2020,but has stalled recently.
Although prices are still only at mid-2013 levels and far from the 2011 peak, homeowners are earning a good return on the price they paid.
ISTAT HOUSE PRICE INDEX (HPI) Q1 2010 – Q3 2022 (Index, 2010=100) (a)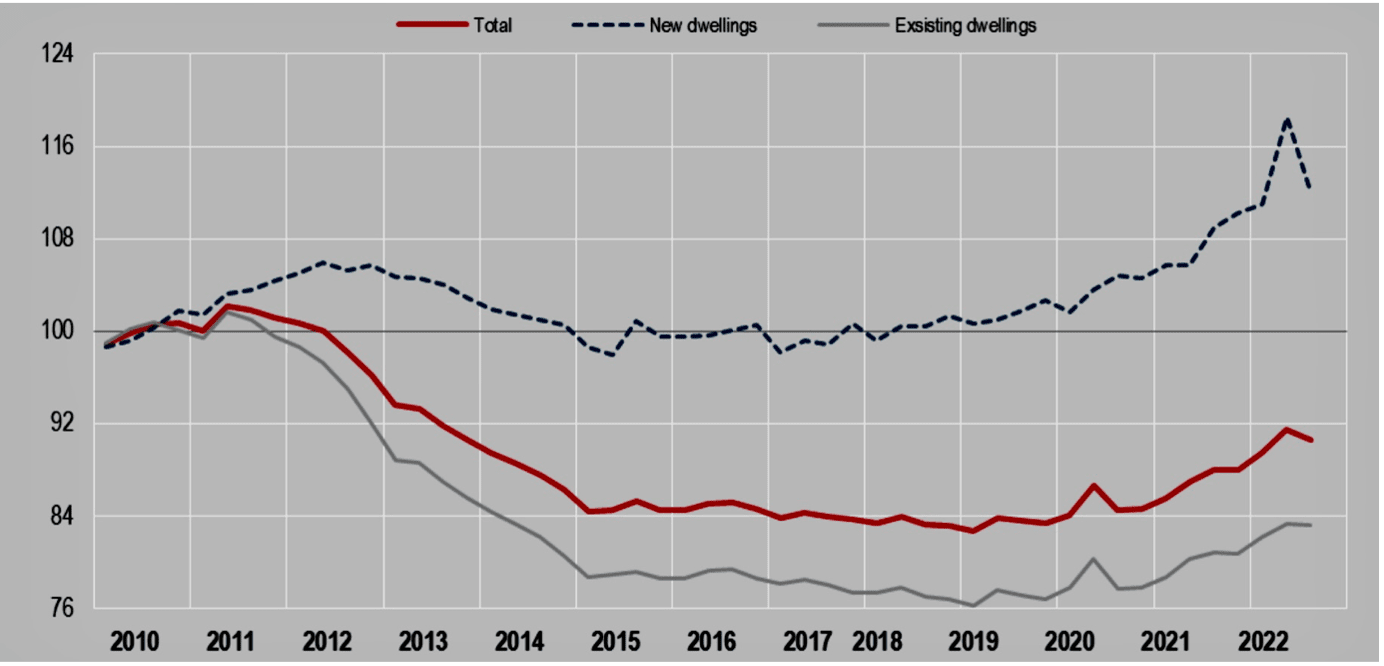 (a) The choice of 2010 as the base year is entirely due to graphical reasons. The data for Q3 2022 are preliminary.
The increase was driven by new home prices, which rose 5%, albeit at a slightly slower pace than in the previous quarter (Q4 2021) (5.3%), while the recovery for existing homes was slightly slower.
The number of homes sold increased by 12% compared to 2021. Preliminary estimates indicate that HPI decreased 1.0% in Q3 2022 compared to Q2 2022 and increased 3.0% compared to the same quarter in 2021.
On average, home prices increased 4.2% in the first three quarters of 2022 compared to the same period in 2021, with new home prices increasing 6.6% and existing home prices increasing 3.7%.
Signs of weakness in 2023 create potential opportunities for investors in the real estate market in Italy.
Real estate prices in Italy still remain some of the lowest among European Union member states – despite the price recovery since the 2020 slump related to the COVID 19 crisis.
Uncertainty about inflation as a result of the war between Russia and Ukraine, the deterioration in household purchasing power, the steady rise in energy prices and construction materials and costs, and the ECB's quite aggressive interest rate policy are just some of the challenges facing investors. Some analysts believe that Italy's HPI could see a modest increase in 2023. Other analysts predict that house prices could fall. None expect a house price crash. Analysts' predictions about the real estate market can be wrong. Before investing, you should always do your own research.
If you want to buy, build or renovate a property in Italy, there's a great deal of paperwork involved. Many real estate buyers from abroad are not familiar with the technical and legal aspects of this process.
Investing in a property in any country is a major financial undertaking for most people, and it is crucial that your investment is secured. Just as you would seek professional help in your own country, it is also important to seek professional help in Italy. An experienced Italian real estate lawyer has contacts with trusted, independent experts such as surveyors, architects and contractors, and can advise and guide you through your real estate project.
Finally …
As a general rule, it is wise to familiarise yourself with the legal framework regulating international property sales.
For over 55 years, De Tullio Law Firm has been providing international clients with independent legal advice throughout Italy. We are specialists in cross border property, inheritance and family law.
If you would like further information about buying an Italian property, we are here to help. We can guide you through the whole process or even organise the whole process on your behalf. Get in touch with us for a Free preliminary consultation.
Get All Our FREE Guides for Foreigners Planning to Buy, Sell or Live in Italy
Download now
https://detulliolawfirm.com/wp-content/uploads/2023/03/pexels-nextvoyage-3546189-scaled.jpg
1616
2560
georgia
https://detulliolawfirm.com/wp-content/uploads/2021/05/De-Tullio-Header-Logo.png
georgia
2023-05-18 11:42:55
2023-06-01 11:54:09
Real Estate in Italy: 2023 Opportunities