Can Canadians buy Property in Italy?
The Foreign Property Purchase Restriction Act (FPPRA) came into effect on 1st January, 2023. FPPRA introduces Canadian property investment restrictions on some types of purchases overseas. It is however still possible for Canadians to buy property in Italy under certain conditions.
The FPPRA is based on a default reciprocity rule
Because of the FPPRA, property purchase restrictions apply to Canadians buying outside of the country. Likewise, reciprocal restrictions apply to Italians, who are now prohibited from purchasing certain types of property in Canada.
What is the aim of Canadian property investment restrictions abroad?
The main reason for the introduction of the FPPRA is to address the shrinking Canadian property market. As the Canadian economy has struggled in recent years, the demand for housing has decreased. This has led to a glut of unsold properties and a decrease in property values.
In an effort to protect the Canadian property market, the government therefore introduced the FPPRA. The aim is to keep Canadians from investing their money in properties abroad, thereby keeping more money in the Canadian market. The hope is that this measure will boost the economy.
However, there has been some pushback against the law. Many Canadians feel that they should be free to invest their money as they see fit. Additionally, many Canadians feel that the FPPRA violates their rights. The law is due for review, and possible repeal, in 2025.
Despite Canadian property investment restrictions, Canadians can still buy property in Italy
As a general principle, Canadians who signed property contracts before FPPRA can complete their purchase. However, Italian Notaries are currently awaiting guidelines from the Italian Notaries Association regarding the implementation of the new law. Italian Notaries will evaluate each case of Canadian nationals buying property in Italy on an individual basis until the guidelines are in place.
Additionally, there are still other ways for Canadians to buy property in Italy.
A person who is temporarily residing in Italy under the Refugee Protection Act or has protected status can buy property in Italy. Canadians granted refuge or protected status in Italy are able to purchase property in the country.
Joint purchase by an Italian, EU citizen or a resident of Italy with a Canadian spouse or partner is also an option. Joint purchase means that both the Canadian and their spouse or partner jointly own the property in Italy. Joint owners have equal rights and responsibilities for the property, including usage, maintenance, taxes, and associated costs. If one of the joint owners passes away, their share of the property will pass to the surviving joint owner. Similarly, if the joint owners decide to sell the property, they will share the proceeds of the sale according to their ownership share.
There may be special circumstances allowed by Italian law that permit Canadians to purchase property in Italy. For example, if a Canadian has close family ties or business interests in Italy, they may be able to purchase property under certain conditions.
In some cases, a foreign state may purchase property in Italy for diplomatic or consular reasons. This is usually done to provide a residence for diplomatic personnel or to establish an embassy or consulate.
Specific regulations and requirements for these options may vary, so Canadians should consult a lawyer knowledgeable in both Canadian and Italian law, including FPPRA.
Finally …
For over 55 years, at De Tullio Law Firm we have been providing international clients with independent legal advice. We offer services in all the major fields of Italian law. However, our particular expertise lies in real estate, residency, family law and inheritance matters. Our team of experienced lawyers has a deep understanding of international and Italian legal systems.
Our expertise in cross-border residential and commercial property transactions helps our clients navigate the complex laws and regulations surrounding property purchases and sales in Italy.
We pride ourselves on furnishing high-quality legal services to our clients and have a strong reputation for providing practical and effective solutions to their legal needs.
If you would like to talk to us about investing in Italian property, please get in touch with us.
You may also be seeking information about how to obtain an Elective Residence Visa for Italy or you might like to peruse our series of informational videos.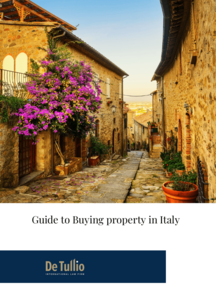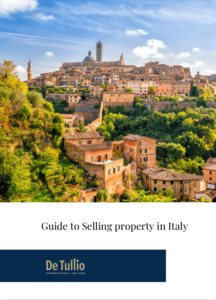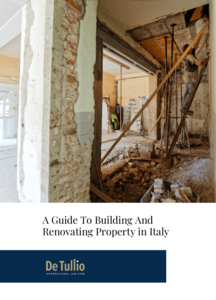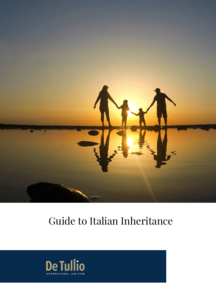 Get All Our FREE Guides for Foreigners Planning to Buy, Sell or Live in Italy
Download now
https://detulliolawfirm.com/wp-content/uploads/2023/01/A40B608E-D0D2-44D6-9DC3-16C55241F1B6.jpeg
1125
1991
georgia
https://detulliolawfirm.com/wp-content/uploads/2021/05/De-Tullio-Header-Logo.png
georgia
2023-04-19 10:39:20
2023-04-19 11:17:55
Can Canadians buy Property in Italy?